Co Twoja domena mówi o Tobie?
Domena, to nazwisko i adres Twojej firmy w internecie. Prosta, łatwa do zapamiętania nazwa, kojarząca się z działalnością firmy stanowi ważny element sukcesu rynkowego przedsiębiorstwa.
Jak to działa?
Pojęcie "domena" zwykle dotyczy nazwy witryny internetowej zarejestrowanej przez abonenta (Ciebie/Twoją firmę). Mniej ludzi dostrzega, że domena, to również najważniejsza część adresu mailowego.
Ten łatwy do zapamiętania adres, za pośrednictwem serwerów DNS, tłumaczony jest na adresy zrozumiałe dla komputerów. Domena pozwala połączyć się z odpowiednim serwerem w Internecie.
DNS czyli system nazw
Domena internetowa, która jest zarejestrowana u rejestratora (firmy świadczącej usługi rejestracji domen) na rzecz abonenta (właściciela) musi być wydelegowana na odpowiednie serwery DNS. Serwery DNS (Domain Name Server) zawierają informację, który serwer obsługuje jakie usługi w danej domenie.
Rysunek poniżej przedstawia schemat lokalizacji usług związanych z domeną: serwis, www, poczta elektroniczna, serwis specjalistyczny, serwer FTP. Najlepiej jest, jeśli wszystkie te elementy skupione są u jednego usługodawcy, który jest odpowiedzialny za prawidłowe funkcjonowanie wszystkich elementów.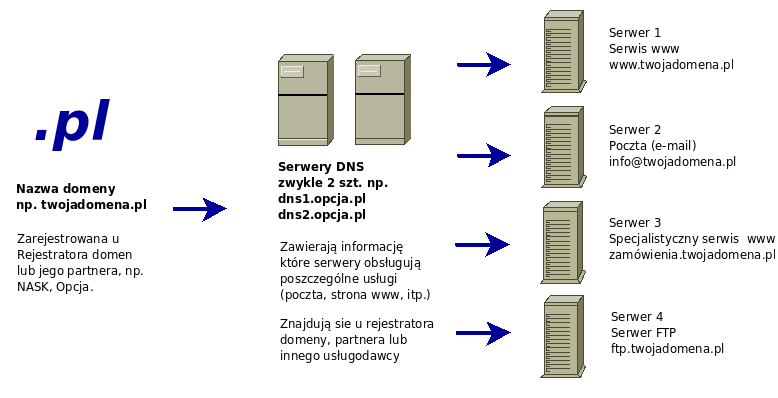 Dlaczego kupować domeny?
Zakup domeny z racji swojej niewielkiej ceny bywa traktowanych nazbyt "lekko".
Błąd. Nazwa domeny jest jedyna w swoim rodzaju. Nie ma w internecie drugiej takiej samej. Przede wszystkim, to pierwsze skojarzenie z twoją firmą. Najlepiej jeśli nazwa domeny jest powiązana z nazwą firmy lub marką, jaką ma reprezentować, ale nie musi. Jest to jeden z podstawowych elementów komunikacji z otoczeniem przedsiębiorstwa, stale zyskujący na znaczeniu.
Ponadto to twój osobisty kontakt! Zdarza się, że zmieniamy dostawcę usług internetowych, jednakże domena jest zawsze Twoją własnością!  Ważnym aspektem jest fakt, że adresy które zostały przez Ciebie wypromowane, do których są przyzwyczajeni Twoi klienci pozostają niezmienne!
Jak kupować domeny?
Przede wszystkim najlepiej kupować domeny u polskich usługodawców. Są w stanie zaoferować najlepsze ceny na rynku polskim i dają możliwość dochodzenia praw, w razie nieprzewidzianych problemów (w przeciwieństwie do firm zarejestrowanych zagranicą).
Koszt zakupu domeny
Przy zakupie nowej domeny rejestratorzy oferują bardzo korzystne warunki.
Jest jednak jeden "trick" – te atrakcyjne ceny zwykle dotyczą tylko pierwszego roku! Zawsze sprawdzajmy koszt jej przedłużenia, a także renomę firmy rejestrującej domenę. Jej koszt powinien wynosić kilkadziesiąt złotych rocznie. Warto też co jakiś czas sprawdzić ceny u innych rejestratorów i rozważyć transfer domeny.
Jeśli masz więcej niż 3 domeny, negocjuj uzyskanie lepszych cen niż te w cenniku!