Our experience
For over 20 years we deliver software,
provide infrastructure and outsourcing of IT professionals.
Sales area management for Empik
" It is a big step for us – we get rid of Excel,
change assortment management business processes,
we have better control over ware in our stores."
Jarosław Usowski, IT Director, Empik Sp. z o.o.

Major Polish commercial chain selling books and media products
Business and functional analisis
Project of the system
Integration with Clients system
Deployment and user support
ERP System for the manufacturer of construction reinforcement based in the UK
Our system covers
the most important business processes:
warehouse management, orders and delivery processing
production management
invoicingand payment support
customer service and valuations generation
e-mail integration

Polsteel – construction reinforcement producer based in the UK
Business and functional analysis
System architecture design
Implementation and support
Network and servers administration

Internet marketing and dedicated IT solutions for Blue-Sails
" We have improved the efficiency of our work.
This way we avoided unnecessary increase in employment."
Agnieszka Olszewska, co-owner of Blue-Sails

Charter company, organizer of the cruises all around the world.
Implementation and maintenance of the service www.blue-sails.com
Offers management system and yacht catalogue (custom software)
Copywriting and content marketing
E-marketing campaigns
Social media marketing

Promotion "My first contact lenses" for CooperVision Polska
Our campaign "My first contact lenses", achived among nearly 20 000 potential customers, offering them the first free pack of lenses.

One of the biggest manufacturers of contact lenses in the world.
Design and implementation of portal that promotes contact lenses
Campaign conduction
Extensive, multi-channel online marketing activities

System supporting distribution of the press for Polperfect
The analytical part of the system using our algorithms supports the analysis of sales via graphical presentation of current results and forecasts, which enables strategic decision-making and operational control without disrupting the sale process.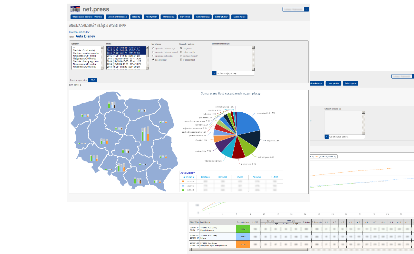 Leader among distributors of national and international press
Data warehouse
Business Intelligence analytical system
reconciliation of document delivery and returns
registration and presentation of press titles
orders control
delivery notification
current sales reporting for publishers