Wskaźnik otwarć, odrzuceń, wskaźnik dostarczalności – te i podobnie brzmiące terminy mogą sprawić, że e-mail marketing wydaje się być mocno skomplikowany. Co więcej, ten ostatni wskaźnik jest coraz częściej wykorzystywany jako obietnica reklamowa. Ten i owy głosi "Dostarczalność na poziomie 99%". Czy faktycznie może nam to obiecać?
Wskaźnik dostarczalności w e-mail marketingu pokazuje jaki procent wysłanych e-maili faktycznie dotarł do skrzynek odbiorczych adresatów. Nie bierzemy więc pod uwagę e-mali, które trafiły do folderów "spam" ani tych, które nawet tam nie dotarły, bo zostały odfiltrowane przez ISP (ang. Internet Service Provider, czyli dostawca usługi internetowej). Wskaźnik dostarczalności będzie zatem najczęściej różny od tego, który pokazuje nam system mailingowy. Te, jako niedostarczone uznają wyłącznie e-maile odrzucone przez serwer, nie informując nas o tym, co się dzieje potem.
W rzeczywistości, to jak wiele z wysłanych przez nas e-maili faktycznie dotrze do skrzynek odbiorczych, zależy od wielu czynników. Żaden z dostawców usług e-mail marketingowych nie jest w stanie sam zapewnić wysokiej dostarczalności.
E-maile, których nie ma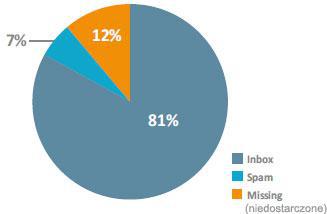 Doręczalność na świecie – choć z każdym rokiem lepsza – aktualnie utrzymuje się na średnim poziomie 81%. W przypadku Europy, sytuacja jest nieco lepsza, gdzie wskaźnik wynosi średnio 84%. Niemniej jednak, oznacza to, że 1 na 6 wysłanych e-maili nigdy nie dociera do skrzynki odbiorczej potencjalnego klienta.
Według badań Return Path*, 6% wszystkich wysyłanych e-maili trafia do folderów spam, pozostałe 10% wcale nie dociera do adresata, ponieważ nie zostaje przepuszczona przez filtr dostawcy usług internetowych (ISP).
Takich danych nie pokazuje zwykle platforma e-mail marketingowa, która za dostarczone uzna wszystkie maile nie odrzucone przez serwer. Łatwo więc uznać, że problem nas nie dotyczy. Czy jednak nie warto podjąć wszelkich działań, aby problem doręczalności nie był naszym problemem?
Dlaczego e-maile nie trafiają do skrzynki?
– przecież mam zgodę na ich wysyłanie?
Nawet jeśli uzyskaliśmy zgodę na przesyłanie informacji od każdego z naszych odbiorców, musimy pamiętać o kilku zasadach bez których nasze wiadomości mają szansę nigdy nie dotrzeć do zamawiającego.
O czym trzeba pamiętać?
Korzystaj z pomocy profesjonalistów
Profesjonalne platformy e-mail marketingowe dbają o swoją reputację u ISP i w tym celu porozumiewają się z popularnymi dostawcami skrzynek e-mail, jak Gmail, Hotmail, Onet, WP itp. Dzięki wzajemnym dobrym kontaktom i zaufaniu, platformy te nie mają kłopotów z dostarczaniem dużej liczby e-maili do użytkowników takich skrzynek. Takiej gwarancji nie da nam darmowy skrypt, ani tym bardziej próba wysyłania mailingów ze zwykłego programu pocztowego.
Upewnij się, że Twoje e-maile są odpowiednio uwierzytelnione
Każda kampania e-mail, którą wysyłasz powinna zostać uwierzytelniona za pomocą SPF, SenderID, DomainKeys, DKIM. Właściwe uwierzytelnienie wymaga odpowiedniej konfiguracji, zarówno po stronie platformy do e-mail marketingu, jak i po stronie Twojego serwera pocztowego. Nie jest to funkcja automatyczna.
Dbaj o swoją reputację
To co może znacząco pogorszyć doręczalność Twojej kampanii, to skargi odbiorców. Jeśli wysyłasz wiadomości nieregularnie, używasz słów powszechnie uznawanych za spamerskie, nie testujesz swoich maili, przez co nie wyświetlają się one prawidłowo w różnych programach pocztowych i generalnie nie przestrzegasz zasad dobrego e-mail marketingu, to masz dużą szansę, że Twój e-mail – nawet jeśli trafi do skrzynki odbiorczej – zostanie uznany za spam i tak oznaczony przez Twojego odbiorcę. W związku z tym pamiętaj, aby sprawdzić każde takie zgłoszenie i upewnić się, że Twoje maile nie przypominają spamu.
* Źródło: Return Path – The Global Email Deliverability Benchmark Report, 1H 2011