Efektywny Excel: makro motywacyjne
Prawdopodobnie jest szary poranek, stosy komórek, danych, kolumn, wierszy, wykresów…, a Ty nie wiesz jak wykrzesać z siebie motywację?
Z pomocą przyjdzie Ci prościutkie makro motywacyjne korzystające z funkcji MsgBox. Na początek przygotuj Excela do pisania VBA (jak to zrobić, zobacz tutaj). Po udostępnieniu zakładki Deweloper, klikasz na ikonę makra.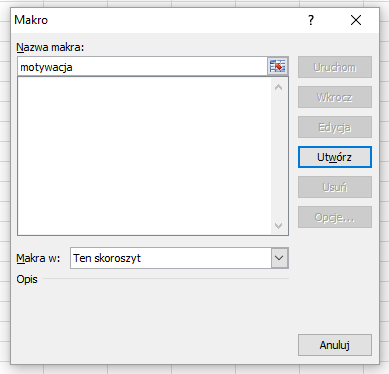 Wpisujesz tytuł, a następnie klikasz "Utwórz"
Makro motywacyjne
Excel automatycznie otwiera okno z procedurą gotową do uzupełnienia. Wpisujesz kod, który generując losową liczbę z przedziału [0,1) – funkcja RND, mnoży ją przez liczbę komunikatów, które chcesz żeby Cię motywowały. Komunikatów będzie o 1 więcej, gdyż w losowaniu bierze udział liczba 0, a następnie zaokrągla ją (funkcja INT) do liczby całkowitej. W zależności od wylosowanej liczby, Excel wyświetli Ci  jeden z podanych komunikatów.
My u siebie dodatkowo zmieniliśmy tytuł wyświetlanego okienka na "GRATULACJE!!!", a poniżej screen tego jak wygląda pełny kod: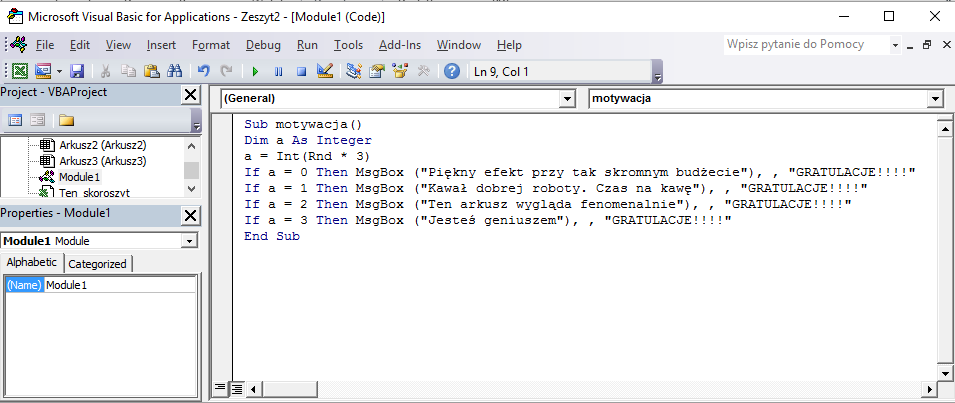 A tutaj kod gotowy do skopiowania:
Sub motywacja()
Dim a As Integer
a = Int(Rnd * 3)
If a = 0 Then MsgBox ("Piękny efekt przy tak skromnym budżecie"), , "GRATULACJE!!!!"
If a = 1 Then MsgBox ("Kawał dobrej roboty. Czas na kawę"), , "GRATULACJE!!!!"
If a = 2 Then MsgBox ("Ten arkusz wygląda fenomenalnie"), , "GRATULACJE!!!!"
If a = 3 Then MsgBox ("Jesteś geniuszem"), , "GRATULACJE!!!!"
End Sub
Wyświetlanie makro
Na zakończenie jeszcze tylko jedno zostało do zrobienia. W związku z tym trzeba określić prosty sposób wywoływania makra. Wywoływać makro można na kilka sposobów, ale wystarczą trzy. Najmniej wygodne jest korzystanie z przycisku Makra w zakładce Deweloper (guzik Uruchom).
Możesz skorzystać z opcji skrótów klawiszowych. W tym celu wchodzisz w tenże przycisk i wybierasz "Opcje".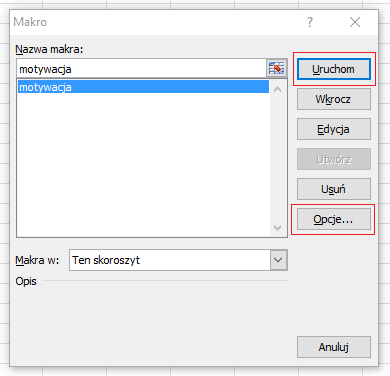 Następnie wybierasz skrót, klawisz Ctrl jest zaznaczony domyślnie, więc wystarczy, że naciśniesz dodatkowe klawisze. Naszym sposobem na ominięcie skrótów wpisanych w Excela jest np. kombinacja Ctrl+Shift+A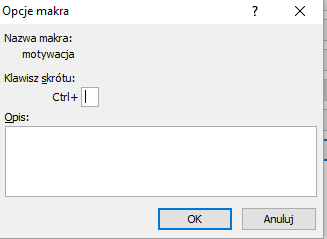 Przypisanie skrótu klawiszowego do makra
Po kliknięciu OK, ilekroć zapragniesz przeczytać coś miłego, wystarczy nacisnąć Ctrl+Shift+A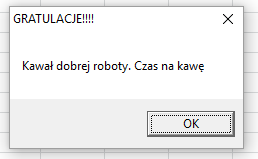 Wyszło, co wyszło – możesz iść na kawę 🙂
PS. Trzeci sposób, to możesz wstawić guzik do arkusza (wstaw dowolny kształt) i przypisz do niego makra (prawym guzikiem myszki klikamy na kształcie, z podręcznego menu wybieramy opcję "przypisz makro".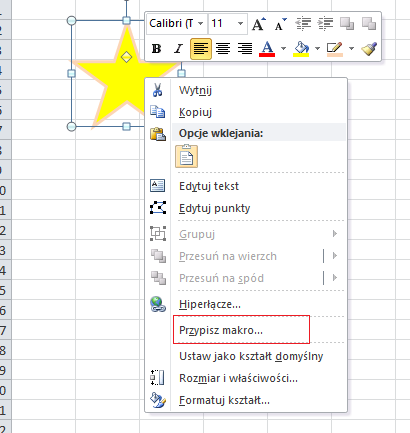 Od tej pory, każde Twoje kliknięcie gwiazdy, czy co tam zostało wybrane, zaowocuje miłym komunikatem: